Books
CONVERT! Visitors into Buyers
Price: only $20 (printed) - only $15 (download)
Click "Buy Now" below to receive your copy today!
(sales tax included)
Everything you need to know to SELL online!
Looking for ways to drive more traffic to your website?
Know you need more content ... but don't know where to start?
Confused by all the fancy technical jargon?
Have more time than money right now?
bWyse 6 Steps to Sell More Online ... is written just for you!... is written just for you!
Tune up your website - get it ready to go!
Define your niche market and determine your USP
Drive YOUR customers to your website
Build a community and your contact database
CONVERT website visitors into buyers!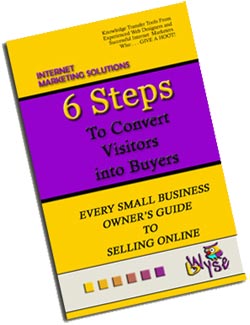 If your goal is to drive sales through your website, then you must commit to strengthening your community. Your community is defined as the website visitors who are so interested, even excited about your business, and products and services that they are willing to provide you with their email address, so as not to miss future opportunities that you offer. Simply put, there are six steps that you can follow to strengthen your community, and subsequently increase your online sales.
---
bWyse is a vibrant, fun and family-owned company that takes extreme pride in our Customer Service! Our goal is to make you a "client for life"! bWyse is a full service internet online marketing firm. Our specialties include helping small businesses make or save money using the internet. Digital Marketing, Online Marketing Solutions, Internet Marketing Services
Call today 425-885-9976. Redmond, WA