Another Way to Engage Your Facebook Fans – OFFERS!
By: June Bachman ~ 1/21/2013
As you all know, your Facebook Fan Page works better when you engage your fans to interact with you. One way to accomplish engagement is by running an OFFER. Although Facebook Offers used to be free, they will cost you a few bucks to run – you can usually run one for less than $100).
A Facebook Offer is a coupon created and shared via Facebook. You can create an offer on your Fan Page and then Facebook users can claim the offer. Claimed offers are sent to user through email. You can create online, offline, or both types of offers.
Below are the steps for creating an offer … give it a try! Post a comment to this blog, with a link to your Fan Page to share your offer with our readers!
Offers can be extremely beneficial for your business. Using Facebook Offers allows you to quickly and easily spread the word about your products and services to both your fans and their friends. Additionally, you can further advertise your offers and reach even more people! Offers are posts on your Fan Page wall. They are promoted via Page Post Ads, so when an offer is claimed, stories will appear about the redemption in your fans' newsfeeds. Additional you can further promote offers through ads and promoted posts.
In the status bar, on your Fan Page, click on the OFFER, EVENT+
Next, select the OFFER that appears in the drop down list.
Select the type of Offer you would like to create. We chose Online Only.
Creating an offer is a 4 step process.
Enter Web address – where people are redirected to get the offer.
If your offer includes a discount coupon code to use on your online store, add it as well.
Select NEXT.
Step 2 is where you'll add the details about your offer.
Add an image – the image needs to be 300 x 300 pixels.
Write headline for the offer – 90 characters or less.
Limit the number of times the offer can be claimed.
Set the expiration date.
Add terms and conditions.
Click to preview your ad.
Go to your email and preview the confirmation email your customers will receive when they claim your offer.
Select the SET BUDGE button.
Pick your budget … and target market for your ad.
Or, you may choose to check the box to promote your ad later.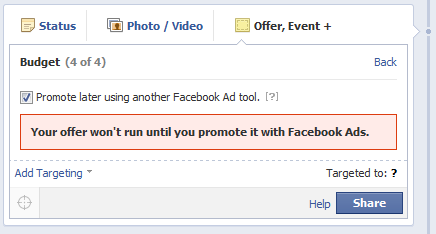 If you select the promote later option, your offer post won't be added to your wall until after you create a Facebook Ad for your offer.
As always, if you have questions, or need some help trying out a Facebook feature – call Wendy at 425-885-9976 … our experts are standing by !

Oh yeah … don't forget to go back to your wall and promote your post as well. It may cost you a few more bucks … but many more people will have the chance to view (and claim) your offer!

---