What Your Facebook Weekly Page Update Really Means
By: June Bachman ~ 2/4/2013 9:00:00 AM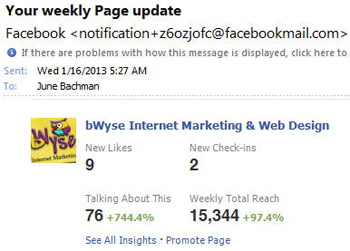 People Talking About This (PTAT) is an important metric because it provides you feedback regarding how much your fans are interacting with you via your Facebook Fan Page. The more your fans interact and engage with your page, the more your reach extends beyond just your fans and includes the friends of your fans.
Talking About This

The number of unique users who have interacted with your page in the past 7 days.

Like your page
Post on your page wall
Like a post
Comment on a post
Answer a questions
RSVP to your event
Mention your page in a post
Tag your page in a photo
Check in at a place
Shared a check-in deal
Wrote a recommendation

In June 2012 Facebook added viral shares to the who's talking about this count. This means when a fan shares your posts, any additional likes, comments or re-shares are counted in the PTAT
The count is usually 2 days behind – so it isn't an immediate representation of who is interacting with your page right this minute
Weekly Total Reach (WTR) is the Facebook metric that tells you how many users have really seen your content in the past seven days. This is an important metric as well, because in order to engage or interact with you and your business via Facebook, users need to see your content first.
Total reach is a more accurate representation of your fan base. You may have 5000 fans, but if only 200 are reached, you're communicating with fewer fans then you may realize.
Higher reach will result in the potential for more user interaction and engagement.

User engagement and interaction should be your Facebook Fan Page goal. If you are seeking new expand your brand exposure, implement a strategy to encourage more user engagement.


---