WhatsApp and Facebook
By: June Bachman ~ 1/13/2016 9:00:00 AM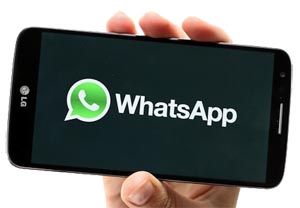 When our family was visiting from Switzerland, Wendy asked how we could communicate using our phones with each other. We of course assumed texting would be the way to go … but no way … it is much too expense for our family members. Wendy asked what they used, and was quickly introduced to WhatsApp. Wendy fell in love! WhatsApp is a smartphone messaging application that Facebook purchased last year.
Smart move by Facebook … as the rest of the world is using WhatsApp to not only text, but share videos and photos … as well as make internet phone calls (similar to Skype). It makes sense, since the internet infrastructure in the rest of the world is less mature, and much more expensive.
Mobile users in the United States are spoiled by our smart phones, and our ability to engage easily and cheaply. In fact USA users spend nearly 36% of their time on their phones using YouTube and Facebook. This is not the case for the rest of the world. In fact, band width costs are so high elsewhere, using social sites directly and even texting isn't a reality for most.
Do you use WhatsApp? How do you use it the most?

---