N3 Main Event 09/29/20: Tom Starkey - Quality Sleep Mattress Stores
Written By: June Bachman ~ 9/29/2020 9:00:00 AM
In 2012, after working in the Furniture and Mattress industry for over thirteen years Tom, and his wife April decided to venture out and become entrepreneurs by opening Quality Sleep Inc. a mattress and bedding retail company. With four children, they completely understand how busy life can be … and how hard it is to sleep well! When you don't have enough time to get the amount of sleep you need, it's that much more important to get quality sleep. Their goal is to provide a great experience from start to finish and create customers for life.
What is Sleep? And, Why Is It Important?
Sleep is extremely important to ensure a healthy and happy life.
During sleep memory consolidation occurs. Our short-term memories are converted to long term memories.
There are four stages to sleep
Stage 1 – Transition period between wakefulness and sleep; lasting about 10 minutes.
Stage 2 – Body temperature lowers, heart rate slows, brain begins sleep process; lasting about 20 minutes.
Stage 3 – Muscles relax, blood pressure and breathing slow down, deepest sleep occurs.
Stage 4 – Known as REM sleep, brain becomes active and dreams occur.
Quality sleep occurs during stages three and four.

Quality Sleep offers NEW name brand high-quality mattresses, bedding, and bedroom furniture at affordable prices. Quality Sleep Store is the ONLY mattress store where you can test all five major brands - Tempur-Pedic, Serta, Sealy, Stearns & Foster and Beautyrest – and more brands - at the same store! Additionally, they offer FREE DELIVERY and setup in most areas, a 60 night comfort guarantee, and a low price guarantee. Visit Quality Sleep Mattress Store today!
Tom is the Main Event Speaker at our N3 – No Nonsense Networking meeting.
Feel free to be our guest!
September 29, 2020 – 7:30 am – 8:45 am
N3 – No Nonsense Networking
Online Zoom Meeting
Email info@bWyse.com to request link to ZOOM MEETING!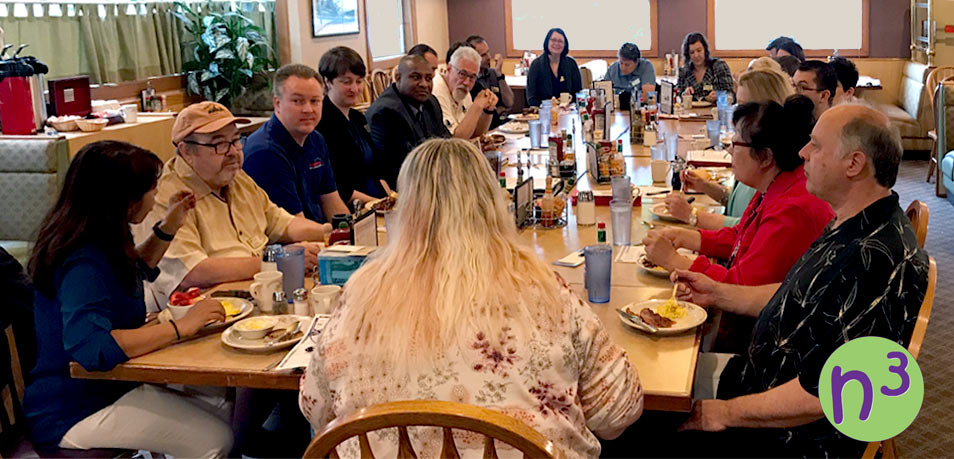 No Nonsense Networking is a business professional networking group in Redmond. We'd love to meet you and learn more about your business! Face to Face professional business networking remains one of the best ways to continue to grow your business!
No Nonsense Networking is about building relationships that foster business connections.
50% Attendance Standard
$50 Annual Fee
Professionally Exclusive
Visit the meetup link to determine if there is an opening for your professional industry!

Email info@bWyse.com to request link to ZOOM MEETING!
Share this post!
---
Facebook Engagement Series - Part#4: Organic Post Engagement Advertising
Written By: June Bachman ~ 9/18/2020 9:00:00 AM
Our six-part Facebook series explores many things that you can do to improve the reach of your Facebook posts … ultimately improving your reach and engagement with your online community. View the previous posts:
Facebook Engagement Series - Part #1: Content Posting Strategies
Facebook Engagement Series - Part #2: Use Organic Post Preferred Audience Targeting to Serve Relevant Content
Facebook Engagement Series - Part #3: Test Facebook Content Posts using Twitter & Content Tips
As we continue to explore techniques and strategies for improving the organic reach of your Facebook posts for your business, this week we take a look at Facebook Advertising … specifically, promoted posts.
Sad but true, long gone are the days when your business posts were displayed on the newsfeeds of all of your fans. Like other forms of media marketing, such as TV, radio, search and newspapers, taking advantage of paid opportunities will help your message reach a much larger audience. Using Facebook to achieve your specific business marketing goals is an effective way to support the achievement of those goals. Paying for Facebook Advertising allows your business to reach a much broader audience, and with more accuracy with your target niche market.
In general when you post content to your Facebook page about 100 people will view your post. However, when you boost the post (for as little as $5 or $10) you can considerably increase the number of people who will view your post.
And… if your fans share your post, even more people will be able to view it in their newsfeeds as well.
Additionally, when you boost your post, you are provided the opportunity to define the audience to whom you would like your post to be presented. More than one billion people log into Facebook each day … some of these people are going to be your target niche customer! Boosting posts will help you expand your reach.
Here is an infographic that Wordstream created … that helps you better understand the audience targeting options.

Share this post!
FREE WEBINAR: Digital Marketing 101 - Best Online Advertising Tactics
Written By: June Bachman ~ 9/16/2020 9:00:00 AM
TUESDAY - September 29th, 2020
10:00 am to 11:30 am
ONLINE WEBINAR!
We will be hosting the webinar via Zoom Meeting. In order to attend the webinar, you will need to register first. Click HERE to register.

Today's consumers are connected to the internet 24/7. As a business, you must have a digital marketing strategy. Join Wendy and June of bWyse as we explore the digital marketing world to help you understand why now is the time to create an internet marketing strategy for your business. RSVP to attend our FREE workshop and get your questions answered!
Register for the FREE Webinar!

At the end of our edutainment workshop you will:
Understand your niche target market
Know where to best advertise online
Learn the strategies and tactics for successful online advertising
Be ready to begin advertising online
and much, much more!

Get your questions answered! Join us for this fun-filled session about creating your online marketing strategy!
We will be hosting the webinar via Zoom Meeting. In order to attend the webinar, you will need to register first. Click HERE to register!
Share this post!