Microsoft Stores Celebrate National Small Business Month
By: June Bachman ~ 4/20/2018 9:00:00 AM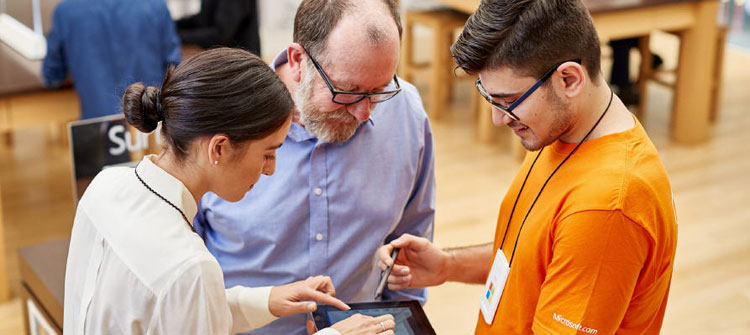 The Microsoft Retail Store at Bellevue Square is celebrating National Small Business Month with lots of FREE workshop opportunities for small business owners. Here's a list of the workshops you can attend during the month of May!
M365 Mondays: Break down three major components of Microsoft Office 365 each week

LinkedIn Lunch and Learn Series: Learn how to grow, build, and fuel your business with LinkedIn, every Wednesday at noon

Our Professional Series will focus on best practices and specific learnings for realtors, accountants, and medical professionals
Professional Series courses:
Wednesday, May 2nd from 9:30am-11am for Medical Professionals
Register
Thursday, May 3rd from 9:30am-11am for Accountants
Register
Tuesday, May 8th from 8:00am-10:00am for Realtors
Register



---
5 Steps for Selling More Online
By: June M Bachman ~ 4/18/2018 9:00:00 AM
TUESDAY - April 24th, 2017
10:00 am to 11:30 am
Microsoft Store at University Village in Seattle!
Are you successfully converting your website visitors into website buyers? If not, then join Wendy and June of bWyse to learn the steps to make sales on your website. This strategy is based on our book 6 Steps to Convert Visitors to Buyers. Make your website work for you, and ensure your visitors become buyers.
At the end of our edutainment workshop you will:

Know how to get your website ready for more traffic.

Website design, navigation, copy and content.
Who buys your stuff?

Know how to drive more traffic to your website.

Linking, Search Engine Optimization, Pay Per Click.

Know how to build trust and loyalty on your site.

Your Contact Database
Psychology of buying online, personal bonds.
Do you want more CUSTOMERS from your website? 6 Steps to Turn Website Visitors into Website BUYERS!
Great information to help entrepreneurs and small businesses make their websites work.
Simple ~ Easy ~ Straight Forward
Click fo More Information. To RSVP - Email: info@bWyse.com or call (425) 885-9976