N3 Main Event 10/01/19: Kendilyn Reeves - Emerald City Graphics
Written By: June M Bachman ~ 9/21/2019 9:00:00 AM
Kendilyn Reeves of Emerald City Graphics is the person to know if you are in need of packaging for your products! Emerald City Graphics provides packaging and folding carton solutions to both national customers and their neighbors in the Pacific Northwest. Some of their specialties are:
Offset Printing
Fine offset printing is their known forte. In addition to high-quality offset printing, Emerald City has many in-house capabilities. Standouts include state of the art structural engineering, specialty coatings, die-cutting, a full bindery division, fulfillment and more.
Packaging
Folding Carton and Packaging division is one of the best packaging resources in the Northwest. With your ideas and their skilled packaging design group, they can produce the perfect folding carton that fits your product and brand. With clients including Nintendo, Philips, Starbucks and more, you'll be in good company.
Contact Kendilyn for all your product packaging needs! kendilynr@emeraldcg.com 206-412-0233
Kendilyn Reeves is the Main Event Speaker at our N3 – No Nonsense Networking meeting.
Feel free to be our guest!
October 1, 2019 – 7:30 am – 8:45 am
N3 – No Nonsense Networking
Family Pancake House - Redmond
17621 Redmond Way, Redmond, WA 98052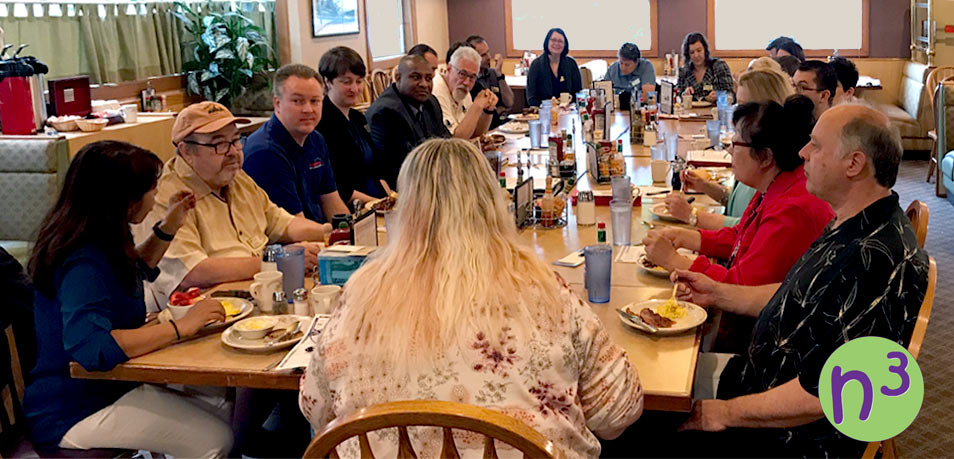 No Nonsense Networking is a business professional networking group in Redmond. We'd love to meet you and learn more about your business! Face to Face professional business networking remains one of the best ways to continue to grow your business!
No Nonsense Networking is about building relationships that foster business connections.
50% Attendance Standard
$50 Annual Fee
Professionally Exclusive
Visit the meetup link to determine if there is an opening for your professional industry!

Share this post!
---
Facebook Engagement Series - Part#4: Organic Post Engagement Advertising
Written By: June M Bachman ~ 9/20/2019 9:00:00 AM
Our six-part Facebook series explores many things that you can do to improve the reach of your Facebook posts … ultimately improving your reach and engagement with your online community. View the previous posts:
Facebook Engagement Series - Part #1: Content Posting Strategies
Facebook Engagement Series - Part #2: Use Organic Post Preferred Audience Targeting to Serve Relevant Content
Facebook Engagement Series - Part #3: Test Facebook Content Posts using Twitter & Content Tips
As we continue to explore techniques and strategies for improving the organic reach of your Facebook posts for your business, this week we take a look at Facebook Advertising … specifically, promoted posts.
Sad but true, long gone are the days when your business posts were displayed on the newsfeeds of all of your fans. Like other forms of media marketing, such as TV, radio, search and newspapers, taking advantage of paid opportunities will help your message reach a much larger audience. Using Facebook to achieve your specific business marketing goals is an effective way to support the achievement of those goals. Paying for Facebook Advertising allows your business to reach a much broader audience, and with more accuracy with your target niche market.
In general when you post content to your Facebook page about 100 people will view your post. However, when you boost the post (for as little as $5 or $10) you can considerably increase the number of people who will view your post.
And… if your fans share your post, even more people will be able to view it in their newsfeeds as well.
Additionally, when you boost your post, you are provided the opportunity to define the audience to whom you would like your post to be presented. More than one billion people log into Facebook each day … some of these people are going to be your target niche customer! Boosting posts will help you expand your reach.
Here is an infographic that Wordstream created … that helps you better understand the audience targeting options.

Share this post!
FREE WORKSHOP: Digital Marketing 101 - Best Online Advertising Tactics
Written By: June M Bachman ~ 9/18/2019 9:00:00 AM
WEDNESDAY - September 25th, 2019 7:00 pm to 8:30 pm
Microsoft Store at University Village
2624 NE University Village St, Seattle, WA 98105

Today's consumers are connected to the internet 24/7. As a business, you must have a digital marketing strategy. Join Wendy and June of bWyse as we explore the digital marketing world to help you understand why now is the time to create an internet marketing strategy for your business. RSVP to attend our FREE workshop and get your questions answered!

At the end of our edutainment workshop you will:
Understand your niche target market
Know where to best advertise online
Learn the strategies and tactics for successful online advertising
Be ready to begin advertising online
and much, much more!

Get your questions answered! Join us for this fun-filled session about creating your online marketing strategy!
To RSVP - Email: info@bWyse.com or call (425) 885-9976
WEDNESDAY - September 25th, 2019 7:00 pm to 8:30 pm
Microsoft Store at University Village
2624 NE University Village St, Seattle, WA 98105
Share this post!