Updating Your Business Plan for 2021 Part 5 - Marketing Plan
Written By: June Bachman ~ 1/15/2021 9:00:00 AM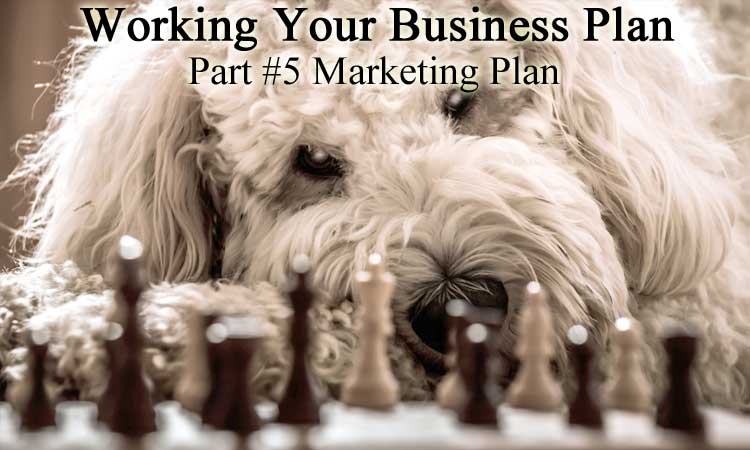 Updating Your Business Plan for 2021 Part 1 - Getting Started
Updating Your Business Plan for 2021 Part 2 - Executive Summary
Updating Your Business Plan for 2021 Part 3 - Company Description
Updating Your Business Plan for 2021 Part 4 - Products and Services
The Marketing Plan section of your Business Plan provides details about the industry, your competition, your target niche' market and how you will market to your niche'.
Include the following sections:
Market Research – Include both primary (data you gather yourself) and secondary (information from sources such as trade journals, periodicals, census and demographic data, etc.) market research.

Market Analysis

– Describes the overview of your business industry, target market and competition. Be sure to support your claims with data and evidence.

Marketing Strategy

– Building upon the Market Analysis, this section outlines the strategic and tactical measures to be implemented as your marketing plan. Include details such as pricing, promotion and how you will go about selling your products and services.
This sub-section should explain the following:

The total size of your industry
Trends in the industry – is it growing or shrinking?
The total size of your target market and your current share of the market
Trends in the target market – is it growing or shrinking? How are customer needs or preferences changing?
The growth potential of your business. What market share is realistic for you to obtain in the future?

Barriers to entry – What are the barriers to entry that discourage new competitors from entering your industry? Are these barriers enough to prevent others from entering your industry? Examples of barriers include:

High startup costs
High production costs
High marketing costs
Brand recognition challenges
Need for qualified employees
Need for specialized technology or patents
Tariffs and quotas
Unionization in the industry

Threats and Opportunities – Being aware of the threats your business faces, as well as potential opportunities is very important. Conduct a SWOT analysis to identify your company weaknesses, threats, strengths and opportunities. Threats and opportunities could occur when changes occur:

Changes in government regulations
Changes in technology
Changes in the economy
Changes in your industry

Products / Services Features and Benefits – Describe all products and services from your customer's point of view. For each product and service:

Describe the most important features. What is special about it?
Describe the most important benefits. What does it do for the customer?
Also include all after sale services your company provides:

Product delivery
Warranty/guarantee
Service contracts
Ongoing support
Training
Refund policy

Target Niche' Customer – Describe each of your target niche' customers or customer groups. Explain your target customer groups, and create a demographic profile for each group that includes:

Consumer Target Niche'

Age
Gender
Location
Income
Occupation
Education level

o Business Target Niche'

Industry
Location
Size
Stage in business (startup, growing, mature)
Annual sales

Key Competitors – Demonstrate how you differentiate your business from your competitors. Be realistic about all competitors and include the following sub-sections:

Direct Competitors – companies that compete with your company:

Company name & location
Competing products and/or services
Form of competition

Across the board
Just specific products
Overlap geographically

o Indirect Competitors – Competitors who may not offer exactly what you offer, but provide products or services that are a different choice.
o Analysis of Competition – How does your company compare with the competition in regards to specific factors such as:

Price
Quality
Service
Selection choice

How You Plan to Market Your Products and Services – Describe your marketing and advertising tactics your business will use, such as:

Online
Print
Radio
Cable television
Out-of-home

Also include details such as:

Why you chose the medium
How often you will advertise/market in each medium
How will you measure your success?
Other marketing strategies and tactics may include:

Marketing may include:

Business website
Social media marketing
Email marketing
Mobile marketing
Search engine optimization
Content marketing
Print marketing materials (brochures, flyers, business cards)
Public relations
Trade shows
Networking
Word-of-mouth
Referrals
Marketing Promotional Budget – Describe how much you are currently spending on marketing and advertising. Include your marketing and promotional budgets for the operating budget moving forward.
Share this post!
---
FREE WEBINAR - Tips, Tricks, Hints: Writing Web Content that Connects
Written By: June Bachman ~ 1/13/2021 9:00:00 AM
WEDNESDAY - January 27th, 2021
10:00 am to 11:00 am

Your website success is directly related to how well your content is written. Join Wendy and June from bWyse to learn not only what is good content ... but also the techniques and strategies for easy content creation. Register to attend our FREE WEBINAR and receive great tools you can use right away. Learn how to write content that search engines can find and people can use! It's time to start writing engaging and effective website content.
At the end of our edutainment webinar you will:
Be able to write offers and showcase products.
Write for readability and user conversion.
Write for Search Engine Optimization.
Know where to find content inspiration
and much, much more!
Great web content will increase traffic to your website, help you build an online audience, build your brand awareness and customer engagement. Are you making the most of your website content?
We will be hosting the webinar via Zoom Meeting.
In order to attend the webinar,
you will need to register first.
Click HERE to register!
Share this post!
N3 Main Event 01/19/2021: Glen Theissen Transition Planning
Written By: June Bachman ~ 1/9/2021 9:00:00 AM
Since 1983, Glen Thiessen has helped many people effectively navigate major life transitions, with plans for retirement, investments, tax, estate and insurance issues. Glen is a financial planner you can trust to guide your savings and wealth plans for your future. Planning ahead for the major transitions in your life may create a more positive legacy. Some transitions are voluntary while others are inevitable. The better you prepare for these life-impacting changes, the more fondly you will be remembered when you leave it all behind.
The mission of Transition Planning, Inc. is to be a contributing part of a team of professional advisors working collaboratively to help you more effectively plan ahead for the major transitions in your life using a values-based, goal-oriented planning process, potentially resulting in a more positive legacy for you.
Glen is the Main Event Speaker at our N3 – No Nonsense Networking meeting.
Feel free to be our guest!
January 19th, 2021 – 7:30 am – 8:45 am
N3 – No Nonsense Networking
Online Zoom Meeting
Email info@bWyse.com to request link to ZOOM MEETING!

No Nonsense Networking is a business professional networking group in Redmond. We'd love to meet you and learn more about your business! Face to Face professional business networking remains one of the best ways to continue to grow your business!
No Nonsense Networking is about building relationships that foster business connections.
50% Attendance Standard
$50 Annual Fee
Professionally Exclusive
Visit the meetup link to determine if there is an opening for your professional industry!
Email info@bWyse.com to request link to ZOOM MEETING!
Share this post!