Written By: June Bachman ~ 4/3/2021 9:00:00 AM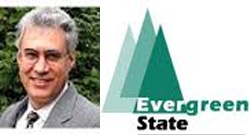 Over the years we've met a lot of mortgage professionals … but Jeff really stands out. Aside from being brainiac smart … Jeff has a way of explaining a super intimidating, difficult to understand process in such a way that makes you feel smart and capable about moving through the process with confidence.
Jeff Lorsch of Evergreen State Mortgage
Jeff's twenty years as a mortgage professional is based on a financial career negotiating export contracts in the aerospace industry. (I said brainiac, right?!) For the past fifteen years Jeff has been an independent mortgage broker. This means that he has seen it all … the ups, the downs, and the overall evolution of the industry. Jeff is amazing at staying apprised of the policy and regulatory changes the mortgage industry has endured most recently.
But, don't listen just to me … Here is what Jeff's clients have to say …
Knowledge – Jeff knows how to get things done.
"I felt from my first visit that you had a handle on what was needed to get it down"
Get things done timely – There are deadlines, P&SA, interest rates, and life … all of which influence getting things done. Jeff guides you through this entire process.
"Thank you for working through this in such a timely manner"
Details and accuracy – Seriously? We're talking money, and the government … you know what we mean when we say "details and accuracy"!
Jeff Lorsch is the Main Event Speaker at our N3 – No Nonsense Networking meeting.
Feel free to be our guest!
April 13, 2021 – 7:30 am – 8:45 am
N3 – No Nonsense Networking
Online Zoom Meeting
Email info@bWyse.com to request link to ZOOM MEETING!

No Nonsense Networking is a business professional networking group in Redmond. We'd love to meet you and learn more about your business! Face to Face professional business networking remains one of the best ways to continue to grow your business!
No Nonsense Networking is about building relationships that foster business connections.
50% Attendance Standard
$50 Annual Fee
Professionally Exclusive
Visit the meetup link to determine if there is an opening for your professional industry!
Email info@bWyse.com to request link to ZOOM MEETING!